Turība University actively participates in various educational and scientific cooperation projects co-financed by the European Union and other international cooperation programs. As a lead partner, we have successfully implemented international level projects Erasmus+, JUSTICE, NORDPLUS and projects supported by other foundations.
01.02.2016
"SaveComp" project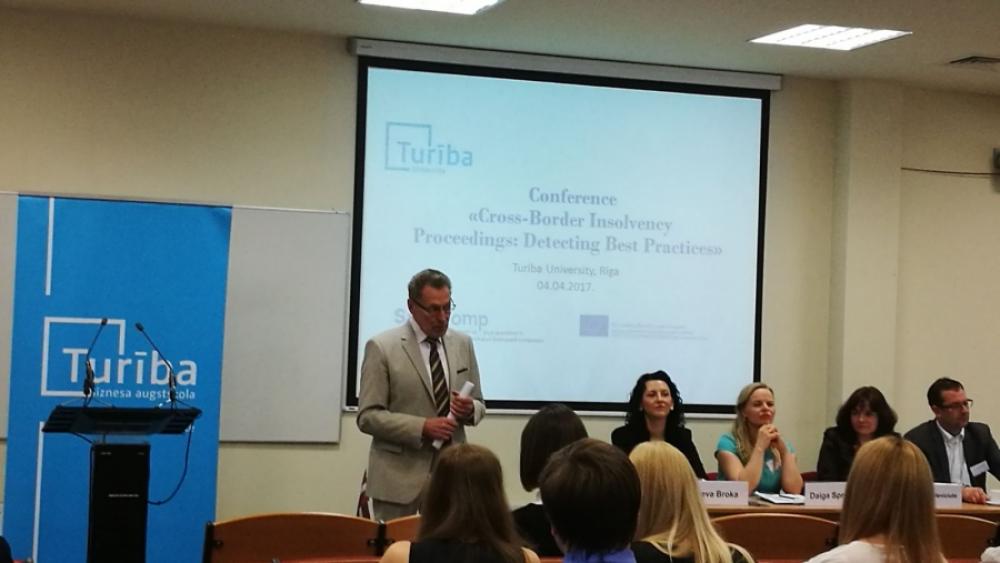 In February 2016 Turiba as a partner University started to implement "SaveComp" project co-funded by the European Union. Project is initiated and led by University of Genoa (Italy).



"SaveComp" project aims to collect and develop best practices in cross border cases for the survival of distressed companies. It is co-funded by the Action grants to support judicial cooperation in civil and criminal matters JUST/2014/JCOO/AG/CIVI/7693 of the European Union.
Following a practical comparative international methodology, the goal of the Project is to collect and exchange best practices in the field of insolvency and pre-insolvency cross-border proceedings, so to help office holders in insolvency proceedings to better coordinate and implement international cooperation, thus enhancing management of multiple proceedings, reoganisation of companies and the protection of creditors and interests of stakeholders.
The Project aims at collecting best practices, rules of PIL and case law in insolvency and pre-insolvency cross-border proceedings at the domestic level, so to disseminate these first results. Moreover, the Project aims to compare the domestic best practices (either already followed in the MSs involved in the research, or suggested by the Partners) so as to possibly develop and exchange best practices which might be of use in cross-border proceedings.
The Project, to identify areas of insolvency and pre-insolvency cross-border proceedings where best practices could enhance the possibility to save distressed companies, enhance protection of cross-border creditors and stakeholders, foresees the involvement of practitioners to help identify problematic issues and already developed best practices, called to answer a practitioner questionnaires, and participate to the local and final conferences.
The collected case law and legislation will be available on the database unalex, and will be freely accessible.
The Project also foresees conferences in Amsterdam, Valencia, Sofia, Riga andGenoa.
The final output, an e-book collecting the results of the Project, comprising national reports of the involved MS and a commentary to the relevant applicable rules of private international law in light of possible best practices to overcome issues in the cross-border management of insolvency and pre-insolvency proceedings, will also be freely available online.
Conference "Cross-border Insolvency Proceedings: Detecting Best Practices"
On April 4, 2017, Turiba Univeristy hosted international Conference on Cross-border Insolvency issues. In frame of the Confernece took part more than 50 participants and speakers from latvia, Lithuania and Ukraine.

Here you can find presentations of the speakers:
Dr iur cand. Dana Rone, Turiba University
"Introduction to the project «SaveComp» on cross-border insolvency issues"
Dr iur cand. Ieva Broka, ZAB "Ieva Broka and Partners", Turiba University
"Review of the proposals to amend the Directive 2012/30/EU"
Dr iur cand. Daiga Sproģe, ZAB "Ieva Broka and Partners", Turiba University
"The debtor s property selling in the cross-border insolvency proceedings"
Dr Stefano Dominelli, University of Genoa, Italy
"Best practices in communication and cooperation between insolvency office holders and courts"
Kristaps Ābelis, Riga Stradinš University
"Protection of creditor rights in cross-border insolvency"
Laura Kirileviciute, Mykola Romeris University, Lithuania
"Application of the Regulation No. 1346/2000 - Lithuanian experience"
Jānis Ešenvalds, ZAB "Ešenvalds & Rasa"
"Topical legal aspects of cross-border insolvency"
Dr.Alexander Biryukov, Kyiv Taras Shevchenko National University, Ukraine
"Implementing of cross-border insolvency rules in Ukraine: legislation and practical issues"
Karīna Petrauska, Insolvency Administration
"The centre of main interests in the meaning of EU Insolvency Regulation"

Project partners:
Università degli Studi di Genova (Applicant)
Universitat de Valencia (Co-Beneficiary)
University of Amsterdam (Co-Beneficiary)
Institute of Private International Law, Sofia (Co-Beneficiary)
Biznesa augstskola Turība (Co-Beneficiary)
IPR Verlag (Co-Beneficiary)
University of Glasgow (Associate Partner)
Charles University in Prague (Associate Partner)
Johannes Gutenberg Universität Mainz
Project duration: 24 month, starting date February 2016
Project webpage: http://savecomp.eu
Turiba University Project Academic Manager:
Lecturer at Turiba University
Dana Rone
E-mail: dana.rone@latnet.lv
Project Administrator:
Kristīne Tihanova
Tel: +371 67625371
E-mail: kristine.tihanova@turiba.lv