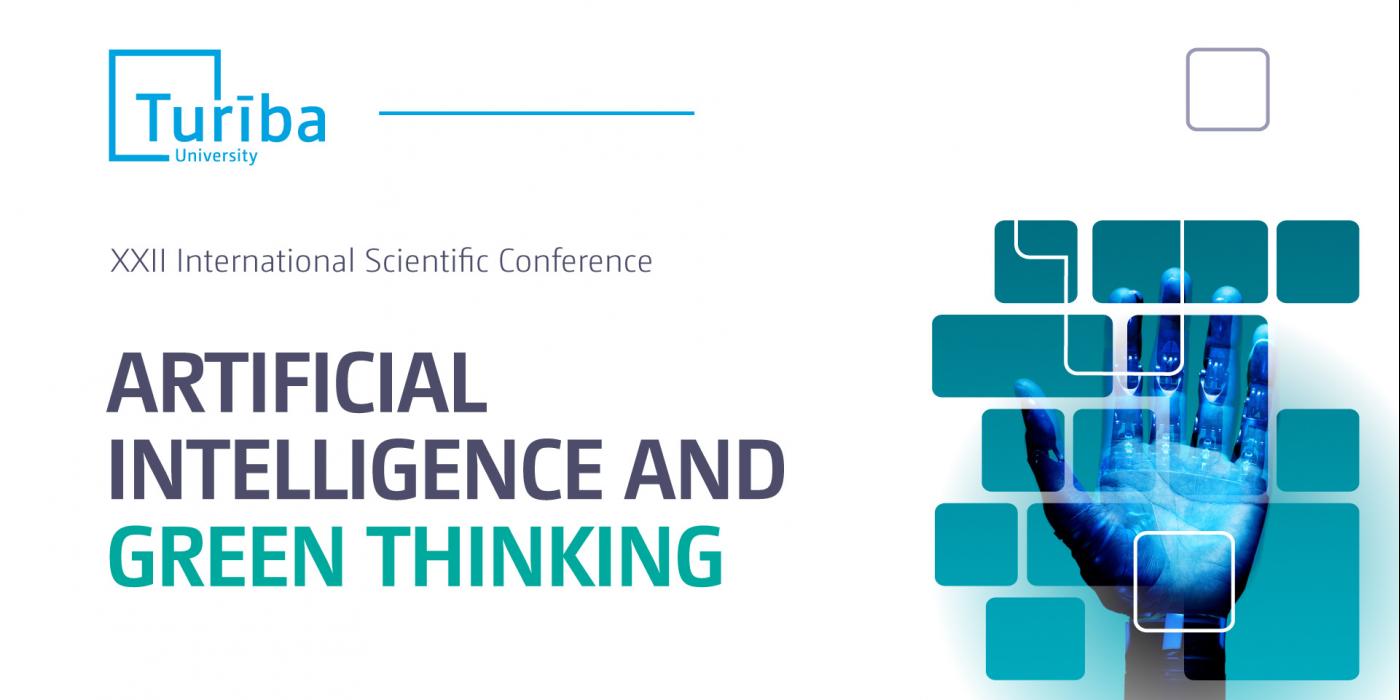 Conference dates: April 21 and 22, 2021
Conference venue: Online - Turība University Facebook page and platform Cisco Webex
Official languages: Latvian and English
XXII International Scientific Conference of Turība University
ARTIFICIAL INTELLIGENCE AND GREEN THINKING
Topicality:
From virtual assistant SIRI to unmanned cars, artificial intelligence (AI) solutions are entering our daily lives faster and faster. Although science fiction often illustrates AI as human-powered robots, AI can incorporate anything, including innovative solutions that help protect the environment. 2020 has seen incredible success for AI, but significant improvements are still needed in infrastructure and energy efficiency, such as extensive and in-depth research to achieve the UN Sustainable Development Goals, including building sustainable infrastructure, promoting inclusive and sustainable industrialization and fostering innovation1.

AI can lead to conflicting impressions: while some list professions that will disappear as AI develops and outline apocalyptic scenarios, others point to the benefits of a more sustainable future. Examples are already visible in our daily lives - thermostats that regulate the heating supply, avoiding unnecessary energy consumption and costs, virtual assistants who answer questions from corporate and institutional customers around the clock, etc.
In 2020, the global AI software market grew by 54% compared to 2019, reaching $ 22.6 billion. Despite the changes that AI will bring in terms of employment, AI is projected to boost global economic growth: in the technology, media and telecommunications sectors, AI will contribute to increase the global GDP by 12.5% in 2030 (5.5% of profits related to productivity and 7% of the increase due to product improvements).2
1 www.un.org/sustainabledevelopment/sustainable-consumption-production
2 www.statista.com/statistics/607960/worldwide-artificial-intelligence-market-growth
Entrepreneurship and Tourism
Supervisors: Associate Professor Zane Driņķe and Professor Maija Rozīte
Innovations for sustainable business
AI solutions in tourism
New and safe in tourism
Human resources in business and AI
Communication
Supervisor: Jana Bunkus
Environmental communication opportunities and challenges
Digital solutions in communication
Crisis communication under the influence of Covid-19
Law
Supervisor: Professor Ingrīda Veikša
AI legal framework
Security of personal data in the digital age
AI solutions in the field of law
Education
Supervisor: associate professor Daina Vasilevska
Innovations in the education system
Advantages and disadvantages of distance learning
AI solutions in education
Information technologies
Supervisor: Jānis Pekša
Green technology solutions and development
Development of AI in Latvia and in the world
Building a data-driven society
Participation
You can participate in the conference:
with publication and presentation;
with publication only;
with presentation only;
as a listener.
Submission of papers:
Abstracts (1400-1600 characters, including spaces) should be submitted by January 15, 2021. The full text of the paper, not exceeding eight pages (40,000 characters, including spaces), should be submitted via EasyChair, deadline February 15, 2021.
Guidelines for manuscripts are available HERE.
Publications:
The conference proceedings will be published electronically, on the University's website and indexed by the EBSCO and ProQuest databases. All papers will be two blind peer reviewed by experts from the Conference Scientific Board.
Application for participation in the student section
Full Paper Submission Deadline: April 7, 2021.
The design rules of the scientific work are available HERE.
Application for listeners
Listeners can apply till April 20, 2021.
To apply for the conference, please fill in the application form!