Turība University actively participates in various educational and scientific cooperation projects co-financed by the European Union and other international cooperation programs. As a lead partner, we have successfully implemented international level projects Erasmus+, JUSTICE, NORDPLUS and projects supported by other foundations.
18.07.2016 - 29.07.2016
Nordplus higher education program's intensive course "Mediation in civil and criminal cases."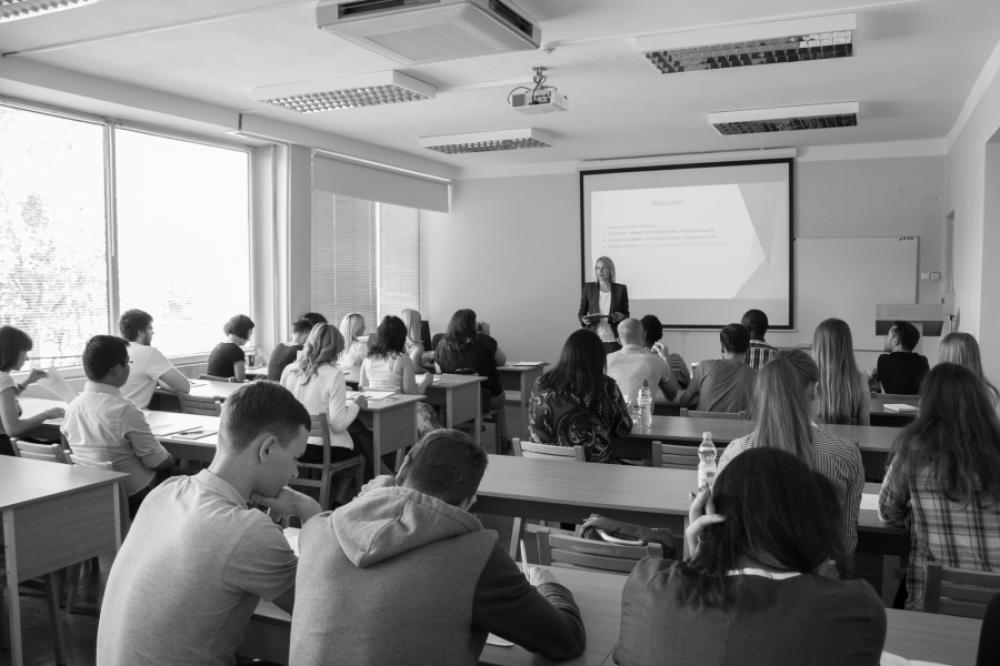 Implementation time of the intensive course: from 18th July till 29th July 2016
In July 2016 Turiba University held the NORDPLUS intensive course about mediation. Turiba University (Latvia) realized that course in a cooperation with Mykolas Romeris University (Lithuania), Tallinn Technical University (Estonia) and Turku Economics and Business Administration School (Finland).
During the proceedings, mediation becomes more popular because judges recommend that parties themselves should try to resolve disputes in a mutually acceptable manner. Mediators have skills to promote parties' negotiations and to move towards a solution out of court. Popularity of mediation also means that members of the society are willing to take responsibility for their own issues without waiting for third parties, including judicial intervention. Mediation is both for courts and arbitrations an alternative dispute resolution type that relieves pressure from national courts, as well as the method by which the parties reach a settlement of disputes and as far as possible keep a respectful relationship.
The main aims of intensive courses were:
- To bring together students and academic forces from several countries to create an international network of professionals who are interested in mediation possibilities and application of that;
- To provide the opportunity to students to learn in a multicultural environment, developing their communication skills and ability to work in a team;
- To organize theoretical lectures, as well as creative sessions with role-playing games, and the opportunity to meet with professional mediators.
Intensive course was attended by the Bachelor's and Master's students from Latvia, Lithuania, Estonia and Finnland. Lectures, discussions, group work and role-plays were led by experienced instructors and practitioners-mediators from all involved universities. Students went on study visit to the Latvian Supreme Court and Parliament. Passing the final exam students for taking part in this course received 3 ECTS.
Joona Salonen, master student from Turku School of Economics, Finland:
"In my opinion the course was very well organized. The lectures, excursions and other activities were well balanced and they formed a functioning entirety. The best thing about the course was that it combined different kind of people from all around the world and from various branches of science around this one topic. Thus the topic was covered from various perspectives. For me as a business student, there most likely won't be a career as a mediator, but however I definitely will suggest mediation as the method when business arguments need to be solved. The cost-effectiveness and the fact that the counterparts are in full control of the process was eye-opening and these factors make mediation more often than not a very attractive option. On top of everything, as the course brought together people from various nationalities and everyone was energetic in their working, it gave me assurances that I want to work in a global environment with people from different backgrounds."
Baiba Veisa, Law Student from Turiba Univeristy, Latvia:
"The Intensive course on Mediation was great opportunity to study in international environment among different students as well as to learn useful knowledge and skills that I'm able to use in my professional work already today. In course I got familiar with mediation process and learned practical skills to use them as fruitful tool in conflict management in everyday life. Mediation process is wide range dispute resolving tool that might be used in different areas - commercial environment, family or even sports world. By knowing the basic theory and structure we are able to find our own way of using the advantages of mediation in order to help our clients and build the world better. Thanks to respected professionals of the course! I was supported to improve my skills and learned additional knowledge about art of mediation!
Pauliina Urmas-Antola, master student from Turku School of Economics, Finland:
"The Nordplus Intensive Course was a great opportunity to meet students from other countries. All participants were motivated to study and so the lectures were interesting, innovating and very inspiring for me. I had some knowledge about the subject in advance and this course helped me to get deeper to the field of mediation in civil and criminal cases. I'm sure that I will have advantage about these studies later in my professional career! The very best part of the course were the teachers and the group itself. The course program was GREAT and volatile and all those places where we had the opportunity to visit were magnificent. It was once in a lifetime experience for me..."
Tarja Toikka, design researcher and a visiting teacher at Turku School of Economics:
As a workshop facilitator and visiting teacher I could observe very inspiring atmosphere in the summer school. The teachers applied student centered pedagogy with strong participatory approach, such as role play. I proposed visualization exercises to be added into program, based on criminal cases that were studied. This proposition was accepted into program fluently and I felt welcome in teachers team. The students were engaged in the objectives of the course very holistic way, using embodied and emotional knowledge and practicing emotional self-regulation in safe contexts.
Role play, which was one of the participatory methods applied in the summer school, offered opportunity to experience feelings and emotions from different stakeholder perspectives. Both visualization exercises and role-play exercises had a common pedagogical goal, which was to help the students develop strategies for emotionally challenging human to human interaction that happens in mediation process.
In the visualization exercises the students expressed very strong understanding of the competences needed in mediation, especially in "competence tree metaphor" exercise. The students could, trough visual metaphor, name a wide range of components that mediation competence requires. Rich set of visual elements, materials, colors and compositions helped the collaborative thinking process.
Based on my experience at summer school it seems, that visualization and role play applied together are good pedagogical methods to train intangible elements in mediation. There are plenty of different theater methods as well as (visual) design thinking methods to apply together and provide a meaningful learning experience, that uses embodied and experiential knowledge. It is vital to take a holistic approach to human-human interaction, where emotions and meaning making are present. I am looking forward to develop new participatory pedagogy together with Turiba University and Turku University teachers.
Presentations:
Agnė Tvaronavičienė, Mykolas Romeris University (Lithuania), "Basics of Alternative Dispute Resolution"
Dana Rone, Turiba University (Latvia), "Mediation in Criminal cases"
Dana Rone, Turiba University (Latvia), "Success stories of mediation"
Ulla Zumente-Steele, Turiba University (Latvia), "Psychology aspects in family mediation"
Maria Claudia Solarte Vasquez, Tallinn University of Technology (Estonia), "Conflict management analyses tool"