Turiba University invites International students to participate in Summer school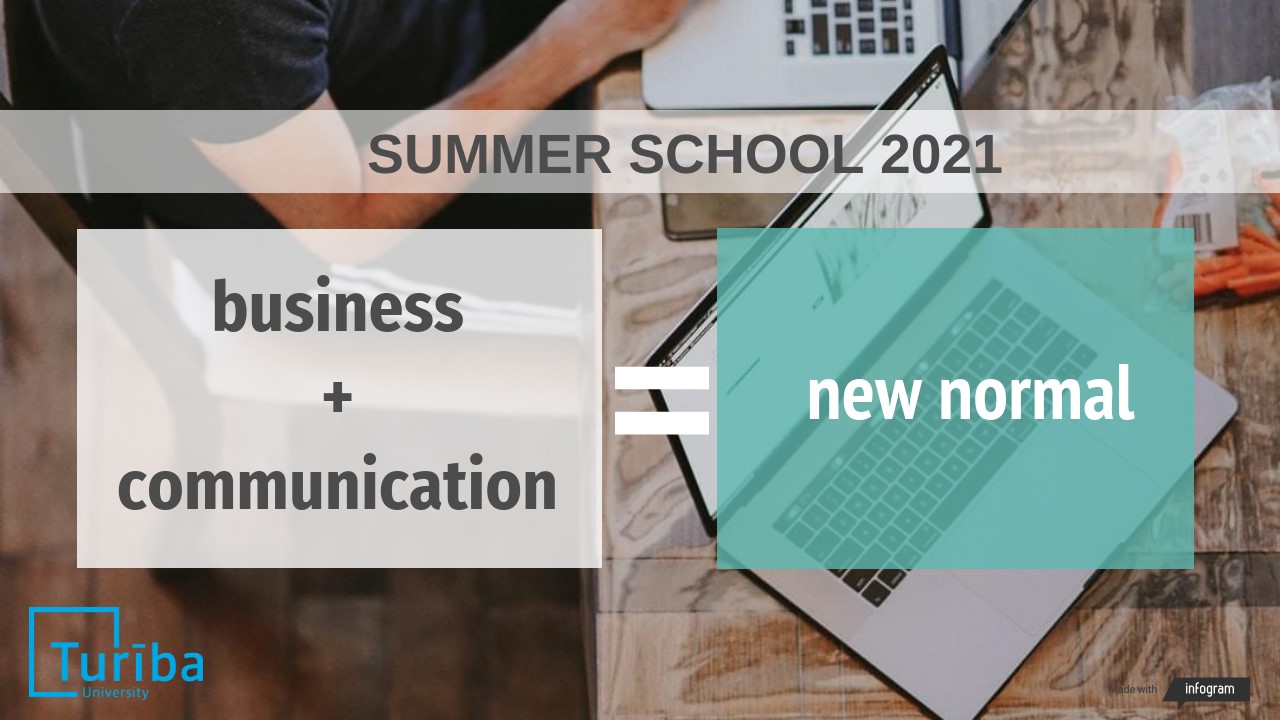 Name of the summer school: Business + Communication = New normal
Summer school dates: 04.08.2021. - 15.08.2021.
Welcome to Summer school for Communication and Business students!
This summer school will give you knowledge about the nowadays processes in business world, how to plan and lead your business in those difficult times, how to manage communication and marketing activities. You will meet many experienced entrepreneurs and marketing specialists from Baltic States, will discuss the tendencies and will define "New normal" in business.
Main topics: 1) Development and management of business and communication in nowadays world 2) Getting to know Latvia – culture, history, traditions and business environment of Baltic States; 3) development of communication and team work skills.
You will also get to know our beautiful country, our unique culture and traditions. You will get to know Latvia and Riga not only as a tourist, but will learn about our culture and traditions by experiencing and participating!
Summer school will take place in Riga – the capital of Latvia. Riga is the biggest city of the Baltic States, it is the cultural and economic centre of the Baltics. During the summer school you will not only participate in lessons, but also will have a chance to get to know Riga and will spend a wonderful time in our beautiful city!
PROVISIONAL SCHEDULE OF THE SUMMER SCHOOL:
Additional table content
| | |
| --- | --- |
| DAY1 | Arrival and introduction, getting to know Latvia - traditions, culture, language |
| DAY2 | Business environment in Latvia and Baltics. Sustainability in business |
| DAY3 | Crisis and Change management. Good examples. Meeting with representatives of Chamber of Commerce |
| DAY4 | New Normal in communication |
| DAY5 | Export. Role of export in the Business, successful cases |
| DAY6 | Team building activities |
| DAY7 | Excursion, free time |
| DAY8 | Digital communication |
| DAY9 | Business psychology, human behaviour aspects in business and communication |
| DAY10 | New normal -new world. How to overcome crises and gain from it? |
| DAY11 | Case studies, practical examples |
| DAY12 | Final test |
| DAY13 | Departure day |
Additional table content
Summer school students will participate in lectures, workshops and discussions, as well as in study visits and excursions. Students will gain 4 ECTS for this Course.
Participants: bachelor or master level students of Business and Communication or related programs, interested in business, management and communication subjects, willing to get to know Latvian culture and traditions. Students must be at least 18 years old.
Place: Turiba University is located in Riga. The University has a modern campus where students will have everyday lectures as well as will be accommodated in our Students' Hostel. Center is in a distance of 8 minutes by train from the University.

COSTS:
Students from the following countries can apply for scholarship: Azerbaijan, Belgium, Bulgaria, Croatia, Cyprus, Finland, France, Georgia, Greece, Hungary, Israel, Italy, Kazakhstan, Kyrgyzstan, Mexico, Moldova, Mongolia, Peru, South Korea, Tajikistan, The People`s Republic of China, Turkey, Turkmenistan, Uzbekistan, Austria, Czech Republic, Denmark, Estonia, Germany, Iceland, Japan, Lithuania, Norway, Sweden, Switzerland, The United States of America, Spain, Ukraine, Indonesia, Slovakia, Poland, Vietnam. In case if you are not citizen from one of those countries, please contact coordinator and inquire information about the possibilities to participate with the tuition fee.
We will evaluate your application forms, motivation letters and CVs. Best students will receive a possibility to participate in the Summer school for free! Scholarship doesn't cover travel and visa costs. Application deadline for the scholarship: 01.04.2021.
For other country students or those who are not selected for the scholarship tuition fee is 395 Euro.
Fee or scholarship includes covered accommodation (in campus, 3 or 4 bedded rooms in the students hostel, www.hostelturiba.lv), catering (3 times per day), pick-up service and full programme of the School – lectures and workshops, excursions and study visits, public transport in the city, cultural and free time activities.
Additional costs: traveling to Riga, visa costs, insurance.
Language of the summer school: ENGLISH. Students have to be able to communicate freely in English.
APPLICATION REQUIREMENTS:
In order to apply for the scholarship you need to be citizen of one of the countries mentioned above;
You need to have student status (or academic staff status) at your home University at the moment of application;
You need to fill in application form and upload all necessary documents:
Please fill in the APPLICATION FORM and upload in the system all required documents (CV, letter of motivation, language certificate (if you have any)).
APPLICATION DEADLINE:
For Scholarships: 01.04.2021.
For Applicants with Tuition fee: 01.06.2021.
CONTACT PERSON:
Kristine Tihanova, Kristine.Tihanova@turiba.lv
YOUR BEST SUMMER SCHOOL EXPERIENCE IN RIGA, TURIBA UNIVERSITY!