21.02.2022
Frank Ebbecke, an internationally renowned journalist, marketing, and leadership expert from Germany, will address the audience at the scientific conference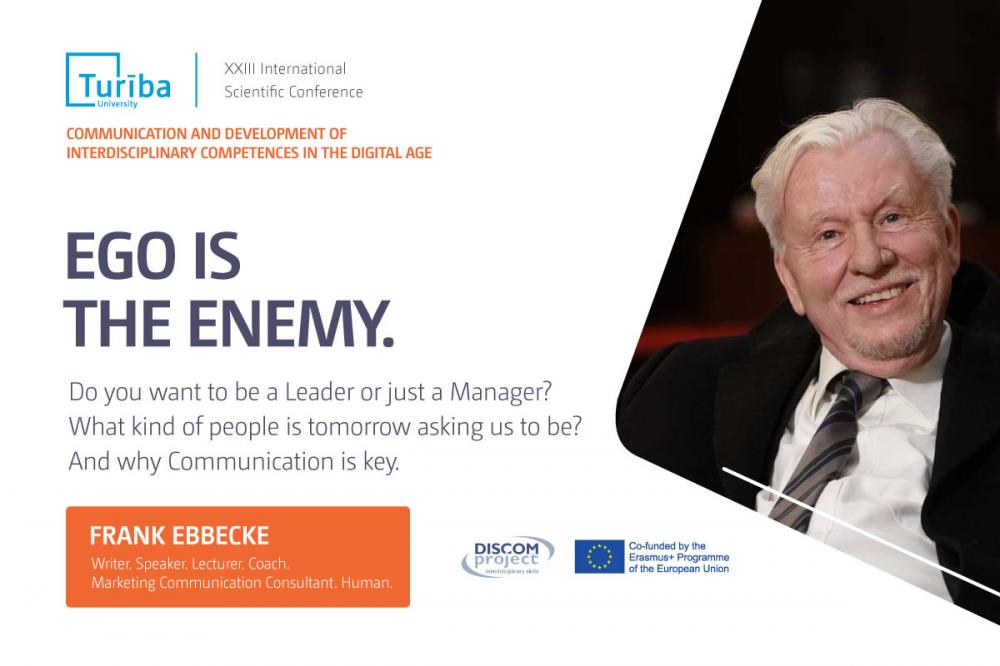 Frank Ebbecke, an internationally renowned journalist, marketing, communication, and leadership expert, will speak at the international scientific conference "Communication and Development of Interdisciplinary Competences in the Digital Age" organized by the Turība University on April 20 and 21.
The international conference will be attended by Latvian and foreign guest lecturers, panel discussions will be held, and work will be organized in five parallel sections - communication, business and tourism, law, information technology and interdisciplinary skills in education. One of the guest lecturers will be communication expert Frank Ebbecke, who in his lecture "Ego is the enemy" will look at the differences between leaders and managers, the possible changes that the future will require of us and discuss the need for and importance of communication.
Ebbecke graduated from HFT Stuttgart in Germany with a degree in history, philosophy, and political science, and graduated from the prestigious Deutsche Journalistenschule in Munich in 1971, becoming the youngest recruited journalist in Stern in 1971 to fulfil the duties of a research reporter in different parts of the world. From 1978 to 1988, Frank gained experience with J. Walter Thompson, the oldest and still one of the largest global advertising and marketing agencies, working with all multinational clients, but devoting most of his time to JWT's largest and most valuable brand, Ford Motor Company. From 1988 to 1993, he held senior positions in the company, as well as researching new markets in the East Germany and Eastern Europe.
In 1993, Frank founded his own company, FE Communications, which developed Renault's dealer marketing programs in Germany, while supporting new, independent advertising agencies in Prague, Bratislava, and Salzburg. In 1995, in parallel, he was selected as JWT's consultant and ambassador for the automotive markets in various global regions, working not only with Ford but also with Mazda, Seat (VW) and others. In 2008, as the company's president, he initiated and managed business development activities for a group of marketing communication agencies based in Moscow Ark Group. Today, he continues to train new employees in Ark Group's media group, SIGMA, in marketing communications, intercultural leadership, public speaking, presentation arts, and English language skills. He also continues to run his own marketing communications consulting firm, FE Communications Moscow.
He is currently one of the world's largest car enthusiasts and specialists, who still attends all major car shows around the world and produces various publications. As a journalist, marketing, communications, and leadership expert, he continues to work in Russia and Germany, as well as lecturing in many countries around the world. Since the beginning of 2013, Ebbecke has been regularly writing portraits of personalities, restaurant reviews and opinion columns for the Moskauer Deutsche Zeitung. In early 2018, he was selected as the author of the book "Germans and Russians Across All Borders - 20 Years of the Moskauer Deutsche Zeitung". In this book, he wrote about prominent "bridge builders" from both spheres. This successful publication was followed in late 2020 by the book "Future needs a Past" about 20 outstanding Russian-German personalities.
The international conference will take place in person at the Turība University, as well as online on the Cisco Webex platform. All those interested in the lecture are invited to participate by registering their participation by April 12. Conference participants can attend both or one of the days of the event, participating both as listeners and as active participants by performing with a publication or presentation. Certificates will be issued for participation in the conference. Registration for participation is mandatory for all event attendees.
The conference program, application conditions and registration procedure, as well as the deadlines and requirements for submitting reports, articles and publications can be found HERE.
For more information, please contact the event organizers by writing to conference@turiba.lv.
The conference takes place within the framework of the ERASMUS + Strategic Partnership project "Development of Interdisciplinary Skills for Cooperation and Conflict Resolution", uniting six partner universities from Latvia, Lithuania, Austria, Italy, the Netherlands, and Poland.