09.07.2020
Drive-in movie night for Turība University students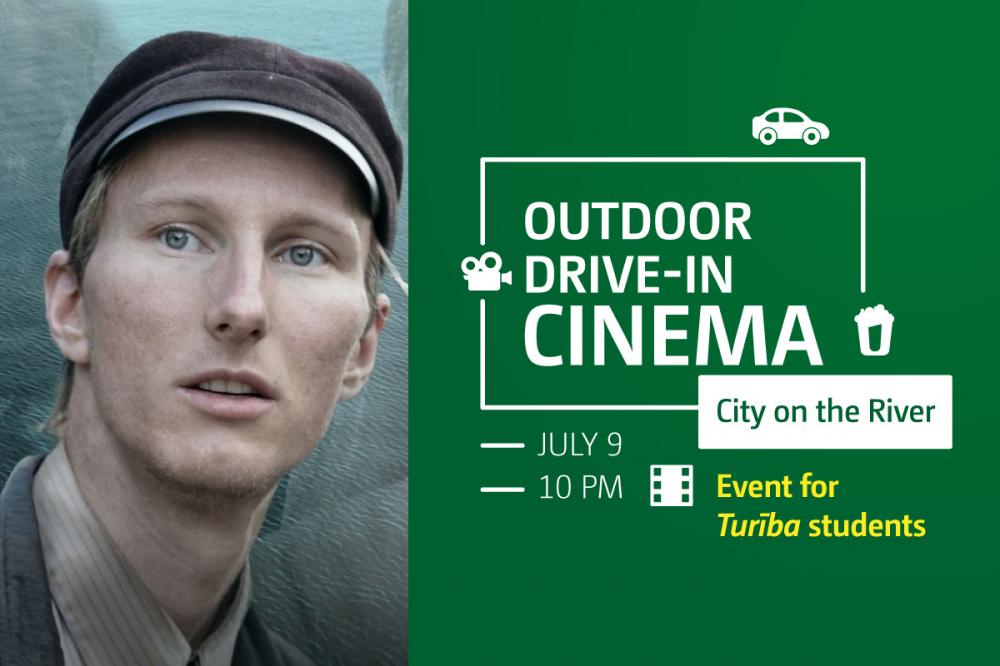 The academic year is over, all the exams are passed, and the summer is in full swing! It is high time for a leisurely drive-in cinema experience! That is why Turība University decided to organize for its students an open-air drive-in film night in the parking lot of the University, where the students will have free access to Viesturs Kairišs' film Piļsāta pi upis/City on the River.
The event will take place on July 9, 2020, at 22:00.
The parking lot will open at 21:30 for Turība students. The drive-in will use FM radio to deliver the film sound. All the attendees are allowed to bring their own food and drinks. Meanwhile, the organizers will serve the popcorn.
Due to limited space, Turība University students are expected to sign up in advance, providing person's name, surname and vehicle registration number.
Deadline: July 8, 2020. Each Turība student can register only one car.
The students, who are staying in Turība University student hostel, will have the opportunity to attend the event without the cars – special places will be designated for those students. In this case they are expected to sign up in advance too.
Viesturs Kairišs' Piļsāta pi upis/City on the River is based on the novel by Latvian author Gunārs Janovskis, who went into exile at the end of WWII. The film was released in January 2020.
Synopsis:
City on the River is a tragicomedy about the ultimate triumph of human virtues in the face of systematic, institutional inhumanity.
The protagonist of the film, Ansis, has an innocent occupation – he is a sign-painter. His craft is in demand during all the rules – the authoritarian regime of pre-war Latvia, the communists, and the Nazis. Ansis loves a Jewish girl Zisla but religious and social prejudices put obstacles in the path of their love. Then Naiga, a Latvian, appears and assumes initiative in feelings until, following a chain of misunderstandings, Ansis out of a sudden becomes her boyfriend and, later on, the husband. Now Ansis is between the regimes, between his two lovers. And he has to make tough choices.
Photographs will be made during the event. Images may be published online.
See you at Turība University!