24.03.2023
Swim into the session "Bikini Bottom"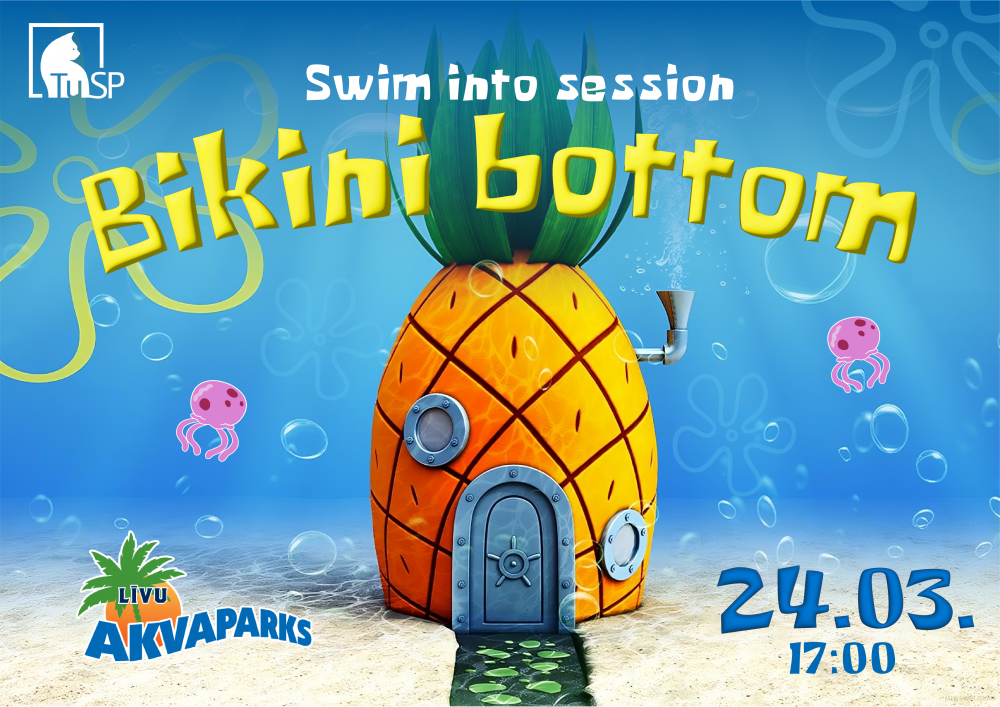 The annual event "Swim Into Session" is approaching at fast pace. This year's theme is "Bikini Bottom", which is an underwater town from the well-known and beloved animated series "SpongeBob SquarePants". The Student Council invites Turiba University students to enjoy the water park, have a good swim and of course have fun with your friends. The event will take place in Līvu akvaparks (Jūrmala, Viestura ielā 24) on March 24th from 5 - 9 PM.
The Student Council will make sure that in between swimming and sliding sessions down the tubes, there will be also many different interesting activities and competitions where you can win great prizes from our sponsors. This event is a great way to spend an active and fun Friday night in a thrilling atmosphere before exams!
Soon, we will announce the dates for when students can pick up free tickets for the event at the Student Councils office C222. There is going to be an available transport that goes BA Turība – Aquapark – BA Turība you will be able to book your place in the Student council office C222, the same place where you can get a ticket for yourself and your friends! The event is free if you show a valid Turiba Univeristy student ISIC card.
THE NUMBER OF PLACES FOR THE EVENT AND TRANSPORT IS LIMITED, SO DON'T LEAVE YOUR APPLICATION UNTIL THE LAST MINUTE!
To the event, you need to bring your ticket and identity document, as well as a swimsuit, towel, swimwear and necessary hygiene items. The program of the event, bus driving time and ticket collection times can be found at the Student council's social networks.
The event will be held in English.
The event will take place in accordance with the visitor regulations of SIA "Akvaparks".
We inform you that the event will be photographed and filmed, and the obtained materials may be published.