09.10.2020
Discussion: "Opportunity and / or challenge - ERASMUS +"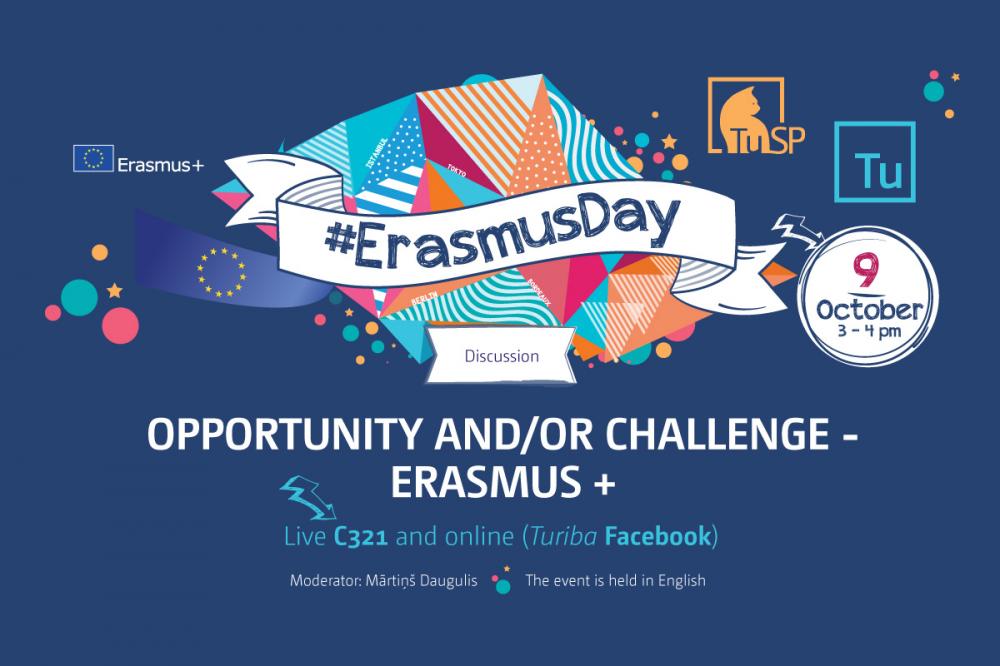 In anticipation of ERASMUS + days 2020, a discussion "Opportunity and / or Challenge - ERASMUS +" will be held on October 9 at 15.00 at University Turiba, room C-321. During this discussion the students who have participated or are currently participating in the ERASMUS + program will share their experience, telling more about studies, internships and other opportunities. The number of places in person is limited, but it will be possible to watch the discussion live on the university's Facebook page.
Currently, the university has announced a competition in which students are invited to apply for study places and scholarships in the ERASMUS + program. ERASMUS + days 2020 are also fast approaching, so Turiba invites you to look behind the scenes of ERASMUS +, find out more and who knows, perhaps to become a participant of the program already this academic year ?!
During the discussion, local and exchange students will share their experiences of studies and internships, what motivated them to participate in the popular program, what have been the biggest benefits and challenges. Students will also explain what is common and different for studies in Latvia and various other countries, will share experience about ERASMUS + praxis, scholarships and will tell whether the program, outside the study process, also allows to travel and get to know other cultures.
During the discussion, everyone is invited to send questions of interest to them!
To attend the face-to-face discussion, please complete the application form.
Each person can register only once and register only himself. Refilled registration forms will be deleted.
Please be informed that the discussion will be photographed. The resulting materials can be published.
The event is organized in cooperation with University Turiba Student Council. Moderator: Mārtiņš Daugulis. The discussion will be in English.
For reference:
ERASMUS + learning mobility includes school education, vocational education, and higher and adult education. The program as a whole is not just about learning mobility: it also includes interinstitutional cooperation to promote innovation and the exchange of good practice, policy reforms, Jean Monet activities and sport.