22.01.2020
Turība graduate: Society is becoming much more open to foreigners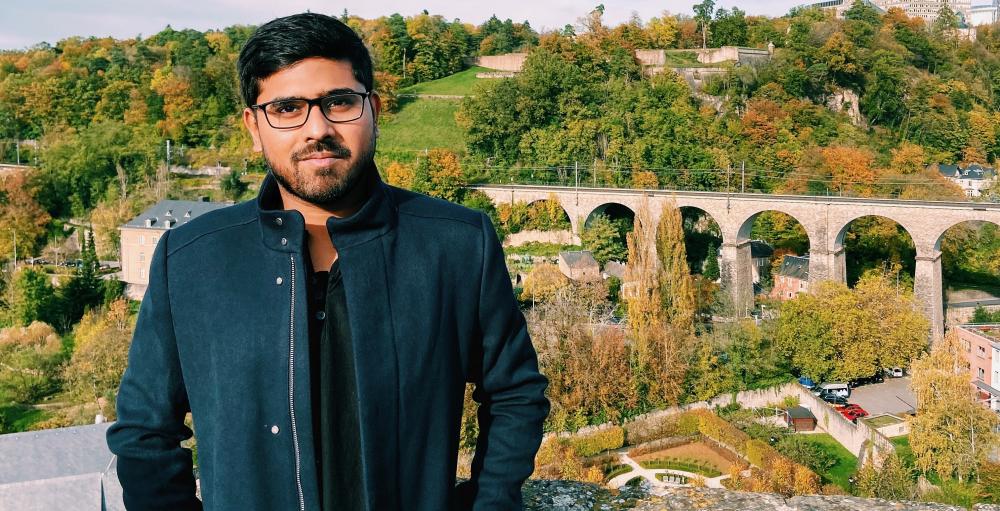 Soujanya Bhattacharya is from India and has been living in Latvia for seven years. Initially he came to study, but decided to stay after gaining a tempting job offer in the banking sector. Looking back over his time in Latvia, he says that the society has changed a lot in the recent years and has become much more open to foreigners. Likewise, he appreciates career and business development opportunities, noting that more and more international companies enter Latvia and are looking for employees with good English skills.
People in Latvia open up gradually
When I arrived in Latvia in 2013, I knew almost nothing about the local culture, society and traditions. However, I clearly knew that I want to study business and entrepreneurship. I consulted with relatives who lived in Latvia and made a decision to go. This decision was accompanied by various assumptions about how it would be here, but upon arrival in Latvia everything turned out differently - much better than I had expected. Contrary to what has been heard, Latvians were not so cool and reserved, people in Latvia simply open up gradually when they get to know each other.
Society in Latvia is not reserved
It should be noted that Latvia today is very different from the one in which I arrived seven years ago. In the meantime, people have become even more open and ready to communicate with foreigners. Undeniably, stereotypes still exist, but not only in Latvia. There will be people with prejudice in every country, you just have to assume that you may have to deal with it. It is therefore important to know how to perceive it in a healthy and calm way. Society in Latvia is not reserved. In addition, the interaction between locals and foreigners offers much wider opportunities, such as setting up multinational companies. Many of my acquaintances have started this type of business and are developing successfully. Of course, I'm not talking about huge, supranational companies, but successful small and medium-sized businesses.
Job in the banking sector
My initial goal, though, was just to get an education, then I was planning to go back to where a job offer in the field of finance was waiting for me. While studying at Turība University, I had an internship at the "Dukascopy Bank" during the last study year. I had various tasks and responsibilities in several bank departments, for example, as a trainee in the field of financial research analysis, later I worked in the client relations department, and afterwards – in the business development department, representing the bank also in various international conferences. Work in the banking sector is very interesting, with a wide range of career opportunities. And now this job has taken me away from Latvia for a short time – since the last year, October, I work at the SEB Bank in Luxembourg.
Language acquisition and future plans
It is possible to create a successful career in both Latvia and India, but each country has its own specifics. Knowledge of the language is very important in Latvia, so I am studying Latvian for the second year. In India, in terms of population, there is much bigger competition in the labor market. Even though I may be transferred to another country in the future as a part of my job, I also relate my future plans with Latvia. I will also be getting a permanent residence permit very soon, which can only be obtained by commanding the official language at least at A2 level.
Knowledge of English is also important in the Latvian labor market. As more and more multinational companies enter, employers appreciate young people who are fluent in English. Several of my friends work for companies like Accenture, SEB Bank, Tet, Mintos, Twino, etc.
After graduating from bachelor studies, I also started studying for a master's degree, but due to work I had to pause my studies. In the future I will definitely try to return among students and complete my master's degree. I really like Latvia. During these years, I have had a chance to travel and visit several other cities in Latvia, not only Riga. I have also visited Ventspils, Gulbene, Cesis, Liepaja and other places. Also, I am very fond of Latvian cuisine, I have to admit that one of my favorite places is "Lido". I am happy that my studies have brought me to Latvia.