30.04.2020
Ismail Hasanli: I am proud of my origin and at the same time I love Latvia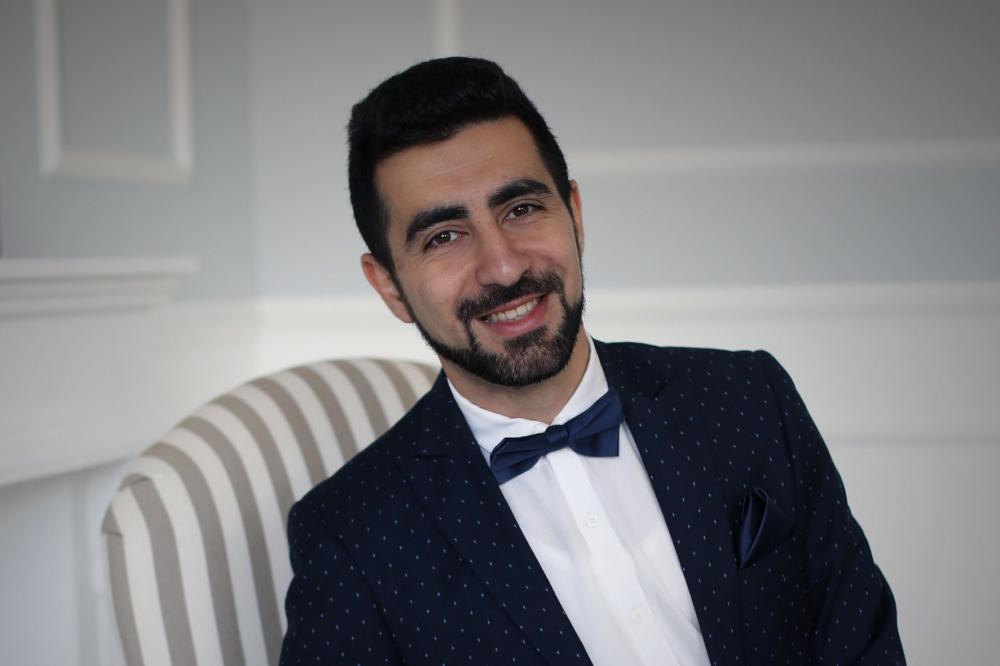 Latvia and Azerbaijan have followed the same path, and, although, both countries and their population are very different, there are many similarities, says Ismail Hasanli, who has lived in Latvia for more than six years. Having traveled to Latvia to study, Ismail also found friends, a beloved wife, and from a student has become a teacher. Looking back at his time in Latvia, he admits that has fell in love with Latvia, but at the same time he is proud of his origin. When he gets to meet Latvians in Baku, Ismail is happy to speak to them in Latvian.
Finding a wife when looking for friends
On the one hand, I would like to say that I had not visited Latvia before starting my studies, but my family has many beautiful memories about this country. My grandparents once visited Latvia, but my parents spent their honeymoon in Riga, so to some extent I felt connected to this country and city before I started my studies. Having obtained a Master's degree in Graphic Design from Baku, I realized that I wanted to change the environment and started to look for study opportunities abroad. I decided that I want to study in a country with a quality education that would also fit my budget. The choice was between the Czech Republic, Poland and Latvia. After consulting with friends, acquaintances and others who have studied in Riga, I chose tourism studies at Turība University. The decisive factor in my choice was the price and quality ratio. Deciding to study in Riga, I reached out on the Internet to young people who are already studying to find out what is ahead of me and make new friends. I must say that I managed to find not only good friends but also a girl who later became my wife.
To stay or return back home
I started my studies in tourism, but after getting to know and talking with professor Andris Pētersons, I decided to move on to public relations studies. Since I already had work experience in an advertising agency, it seemed logical to also have vocational education in this field. Study time ran fast and after graduation, a serious decision had to be made - whether to stay or return home. I have to admit that at that moment I did not see great prospects for myself in Latvia and I returned to Azerbaijan. However, I spent only a few months there realizing that I could not live apart from my beloved girl. So I came back to Riga, soon we bought an apartment and got married.
From a student to a professor
Initially, looking for a job was not so easy - the labor market is relatively small, and without a good command of the Latvian language, the range of opportunities is even narrower. In a relatively short time I managed to work for several companies as a graphic designer and advertising project manager. In addition, I also worked as a freelancer with clients not only in Latvia but also abroad. Then, unexpectedly, an offer to become a lecturer in public relations for undergraduate students in Turība University followed, leading to delivering of photography classes. Initially, I refused because I am not a professional photographer, but as I got to know the program closer, I realized that my knowledge and skills were sufficient. My task was to help students master the basics of photography, both in terms of technique and composition. So that young people would manage the art at least on a hobby level, and if they wanted to, they would study further. I have to admit that the first semester as a lecturer was a great challenge for me, on the first lecture I was scared, but already in the next classes I realized that there is no reason to fear. Soon I received the first positive feedback, and this course started to be enrolled by students who were not in the program. During the classes, the majority of students had their skills improved and this was most satisfying.
People's attitudes changed
I have always regarded the work of a lecturer as a very prestigious occupation. In my family, almost everyone has worked as lecturers in various fields: grandfather in medicine, grandmother in philology, mom in English, so this profession gave me more confidence. People's attitudes towards me also changed - both in Latvia and in Azerbaijan. Speaking of the attitude towards foreigners in Latvia, it is a personal matter of each person, not the common position of the state. There are many foreigners in Latvia who have proven themselves from a professional point of view: doctors, businessmen, lecturers, not long ago there was a member of Lebanese origin in the Latvian Parliament. It takes time to get used to the fact that foreigners can make a significant contribution to Latvia's development, so I try to understand every person, regardless of their position.
We are similar and very different at the same time
Coming to Latvia, I had different feelings. I knew that both Latvia and Azerbaijan were countries that had regained their independence and followed the same path. We are alike and at the same time very different because each has its own local culture, but we have all been significantly affected by globalization. If I have to name something that Latvia was the hardest to get used to, then it is climate. In addition, getting used to something does not mean falling in love. I can't get used to getting dark so quickly in the evenings, I just try to accept that fact. It's like complaining about gravity.
Each country leaves a certain impression
During these six years that I have spent in Latvia, I also try to get to know Latvian culture and traditions, as well as to introduce Azerbaijani traditions. Every country makes a certain impression and my habits change as well. Recently, I have given up the usual greeting in Azerbaijan by kissing, which is normal in my country even when two men meet. In Latvia, in such cases, some misreading glances can also be noticed. Until the age of 27 I could not cook and the first time in Latvia I ate only half-finished goods. Now I have learned to cook traditional Azerbaijani dishes, but my wife is responsible for Latvian cuisine.
Future plans in Latvia
I am very grateful to my friends who have introduced me to beautiful Latvian traditions. I will never forget my first Midsummer celebration in Daugmale to which my friend Oskars invited me. Thanks to my Latvian teacher Rūta Kārkliņa, who is also the director of the Kr. Barons Museum, I have become acquainted with Latvian folk songs. I am proud of my origin, but I can also be proud to say that I love Latvia. Three months ago a son was born in our family and we associate our future plans with Latvia. Yes, maybe many things would be easier in Azerbaijan because my family and many friends live there, but I feel very good in Latvia. At the moment I have a temporary residence permit, but soon I will also get a permanent residence permit. I have not thought about changing my nationality so far, because I would have to give up my Azerbaijani nationality, which I have patriotic feelings about. After all, a passport is just a formality.