09.04.2021
Foreign student: Latvia is a great place to live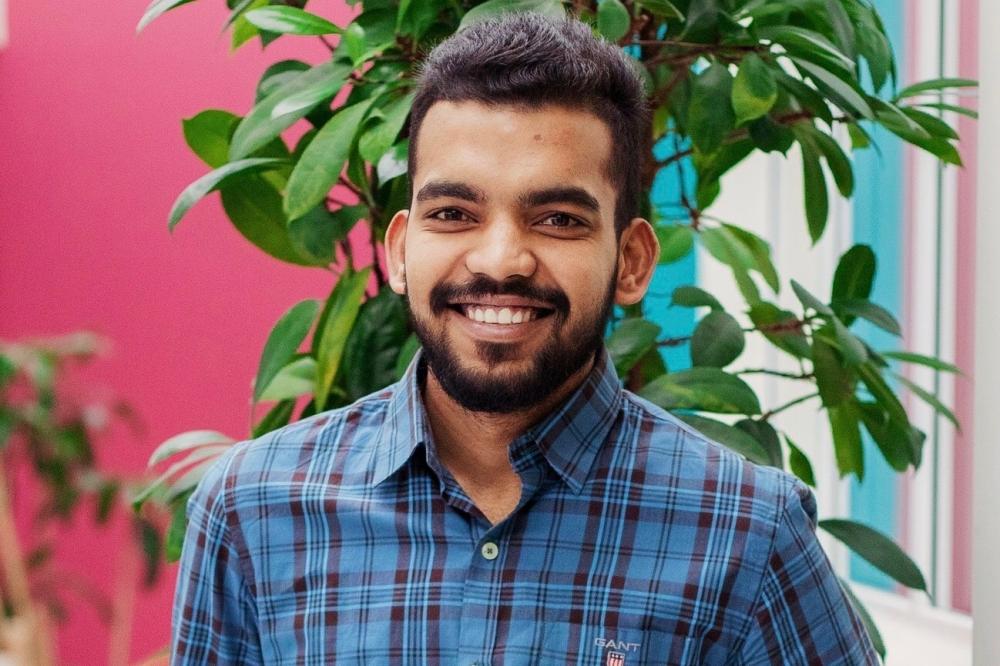 Before I came to study, I had never heard of Latvia before. Arriving here and getting to know its culture and people, I realized that I have made the right decision, says Yashwant Jaiswal, a student at the Turība University. While sharing his opinion, Yashwant talks about his first impressions, job offer and commitment to learn the Latvian language in order to integrate better into society.
Going to Latvia - father's recommendation
When I was eighteen, I felt lost, not knowing where to go to study. I started thinking that something in my life needed to change, and I went to my father to ask if I could go abroad to study. My father agreed without hesitation, so I began researching the universities and their offers. Initially, I researched a number of university offers in the UK, but later I changed my mind. My father suggested exploring Latvia, about which I had never heard of before. After doing some research, I realized that I was interested in this country, so I went to the international exhibition "European Higher Education Fair" in Delhi to find out more about studying in Latvia. During the exhibition I found out all the necessary information about job opportunities, lifestyle, and traditions in Latvia. I was pleasantly surprised and interested, because it was definitely something very different from what I was used to. That is why I moved to Latvia. Currently, I have been here for about five years, I have obtained a professional bachelor's degree in business management, studying in the program " Tourism and Hospitality Management ". Currently I am studying for a master's degree.
First impression
The first impression was positive, even immediately after landing at Riga International Airport. The conditions and environment were very peaceful and welcoming. Arriving in Riga, there was no culture shock, I was happy and ready for adventures. In the second week, I had already made Latvian friends at the university, who were very welcoming and showed around the town of Riga. So far, I have managed to see several places in Latvia, I will especially highlight Sigulda and Old Riga, they have a unique charm that enchants. I believe that Latvia is truly a beautiful place to live. During these years, I have met countless Latvians, whom I now call friends. I can only say that Latvians are kind, polite and friendly.
National holidays and food
Together with my friends made here in Latvia, I have celebrated several Latvian traditional holidays, such as Midsummer. I have even tried Latvian traditional dancing, watching the participants who participated in the Song and Dance Festival. I think this holiday is unique. As I am a fan of various dishes, I have also tried several Latvian national dishes. They are indescribably delicious. Some of my favourites are beet soup and smoked fish.
Job offer as Erasmus coordinator
During the fourth year of my studies, I worked as an intern in one of the restaurants of a hotel in the Old Riga. At the end of the internship, I received a message from the Vice-Rector for Study Development and International Cooperation, in which I was invited to a job meeting. I was offered a job as an Erasmus coordinator, and I was extremely happy and proud to be offered this opportunity. During my studies, I was quite an active student, participating in the activities of the university's Student Council and organizing various projects, so this job offer gave me the opportunity to continue to improve myself.
Work routine
The work is very responsible, I come across something new every day, but I like it, especially when I work in a favourable work environment with such great colleagues. My responsibilities include various tasks, such as checking documents, coordinating and communicating with partner universities, examining student applications received, and answering various questions that are unclear to students about Erasmus opportunities. In my daily work, it is important to be able to ensure successful communication with foreign students, as well as to be able to solve various problem situations that have arisen for students.
Future plans and learning the Latvian language
Latvian is quite complicated, but I study hard to be able to speak it fluently in this language, because I believe that communication is the key to success. As a great benefit, I can mention that I can practice my Latvian language skills thanks to my colleagues, who help me to understand and pronounce different words on a daily basis. In addition, I also watch local television and read news in Latvian. I already feel like in my second home here. I like the environment; I am used to both the Latvian climate and people. Therefore, when I graduate with a master's degree, I plan to stay here, in Latvia.
Author: Yashwant Jaiswal, student of the Turība University