07.10.2020
Foreign student: If you can't travel to Riga by plane, you can come on foot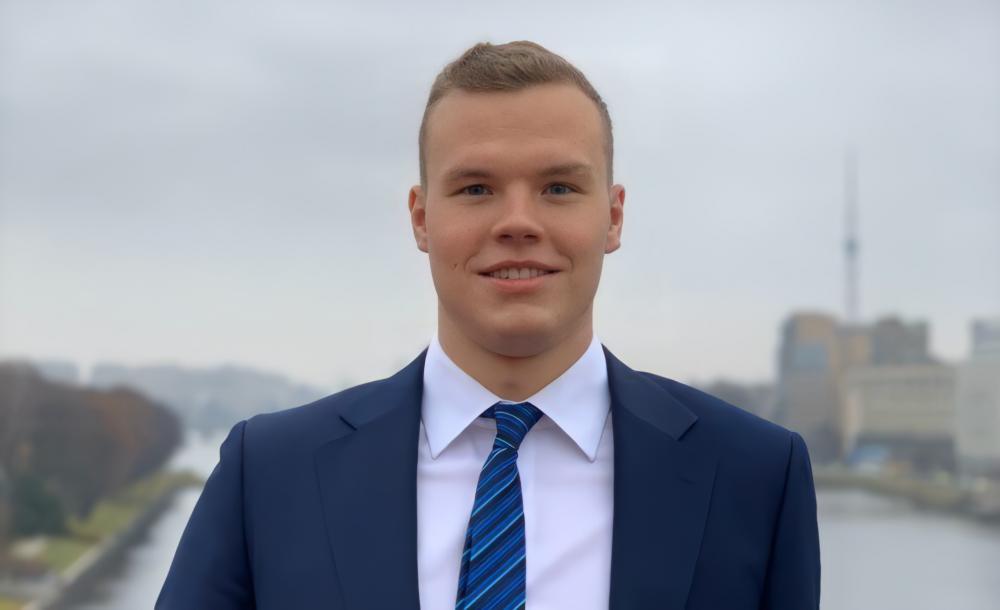 The pandemic has significantly affected travel opportunities, including making it more difficult for students to go to universities outside Latvia or for foreign students to come to Latvia. Of all foreign students currently studying in Latvia, 5% are from Russia. Among them is Alexei Konstantinovich, a student at Turība University, for whom the pandemic was not an obstacle - unable to arrive in Riga, the guy decided to cross the border on foot to start his studies.
Choice to study in Latvia
I learned about the opportunity to study in Latvia from my girlfriend - she found the information and, getting acquainted with it, I realized that I was interested in this opportunity. I had also heard good feedback from acquaintances about studies in Riga. I also wanted to study in Latvia because studying in the European Union means wider job and career opportunities after graduation.
The quality of studies in the USA was not satisfactory
After the ninth grade, I chose to go to study in the United States because I was involved in basketball - it was an opportunity to study and play basketball at the same time. Later, I was seriously injured and stopped playing basketball on a professional level. But it is thanks to basketball that I have managed to get to know Latvia a bit - about six or seven years ago I came here to the European Basketball Championship, several games were played here. In Russia I chose to study international tourism management and later did an internship at a tourism and hospitality company in Thailand. I did not finish my studies because I was not satisfied with the quality of my studies. It was a private university whose management tended to make money rather than ensure the quality of studies.
Stereotypes about Latvians are not taken into account
While living in the United States, I had heard from Lithuanians that the people of the Baltic States were not particularly positive about Russia. It has also been heard in Russia that Latvians do not treat us too favorably. I do not take that into account, because I know that it is only politics and historical influence. In my opinion, Latvians are very positive, friendly, and open to communication. I believe that studying at an international university does not tend to be any different, because students from several countries of the world meet at the same time.
The situation in Russia is complicated and incomprehensible
When making a decision about studying in Latvia, it turned out that getting to the study place will not be as easy as originally intended. In Russia, during the pandemic, everything is complicated and incomprehensible. Statistics on the number of infected people vary considerably from region to region. There is also plenty of misinformation. A few days ago, it was even reported in the Russian media that Latvia ranks second in Europe in terms of the number of infected people, which, of course, is a lie. Russia is currently tightening domestic restrictions, including distancing. In April, the restrictions were so severe that people could not leave their homes, especially those over sixty-five years old. Schools and universities were closed, everything was remote. People worked from home. The food was delivered to the door.
Flights canceled one after another
To get to Latvia, we had to travel a long and difficult way. From the very beginning, due to the spread of the virus, it was quite difficult to get to Latvia. In August, I submitted the documents to obtain a visa. A week later I received the visa and immediately looked for an air ticket to Latvia. I had planned to fly to Latvia with a direct flight from Moscow, but a week later the news came that the flight had been canceled. My mother works at the airport, so I immediately looked for other ways to get to Latvia. We received a message from the airline that the next one will be only on September 14, but a week later - again the news of the flight cancellation. Wondering what are the other options for coming to Latvia, we were advised to fly to Minsk and then transfer from Minsk to Riga, but after a few days we received news that there was no longer a flight from Minsk to Riga. It was still possible to fly through Turkey, but there was a risk of getting stuck there. At the beginning of September, the last opportunity was to fly through Paris, the airline even offered to pay for a night in a hotel so that the next day I could fly to Riga. We were afraid that the flight would be canceled again, so my parents decided that they would take me to the Russian-Latvian border themselves.
Walk across the border
The road to the Latvian border was about seven hours long. When I said goodbye to my parents, I walked a kilometer-long road to the transport that was waiting for me at the Latvian border. I took three suitcases and went through two border checkpoints - each of which checked the documents and all my belongings. The border guards were surprised because I was the only one on foot - mostly long-distance travelers were there. Crossing the border, I was greeted by a guy from the Student Council of the university which was followed by a five-hour drive to Riga. When I finally got to university, I observed ten days of self-isolation.
Plans not only for studies, but also for careers
It is currently difficult to judge whether I will stay in Latvia after graduation. At the moment, I plan to stay here, get a long-term visa and look for a job, but it is difficult to judge, because everything in life is changing rapidly. The pandemic is good proof of that. I certainly know one thing - I do not want to return to Russia, that was my goal a long time ago. My parents also did not want me to stay in Russia, and my younger sister will definitely be going to study outside Russia after graduating from school.
Desire to see Latvia
I want to see the whole of Latvia, but I will start with the most popular sights. The first thing I will look at will definitely be Old Riga and Jurmala, I have heard that they are places worth visiting.
Author: Alexei Konstantinovich, a student at Turība University