06.12.2022
Erasmus exchange program and why you should take a chance in a lifechanging experience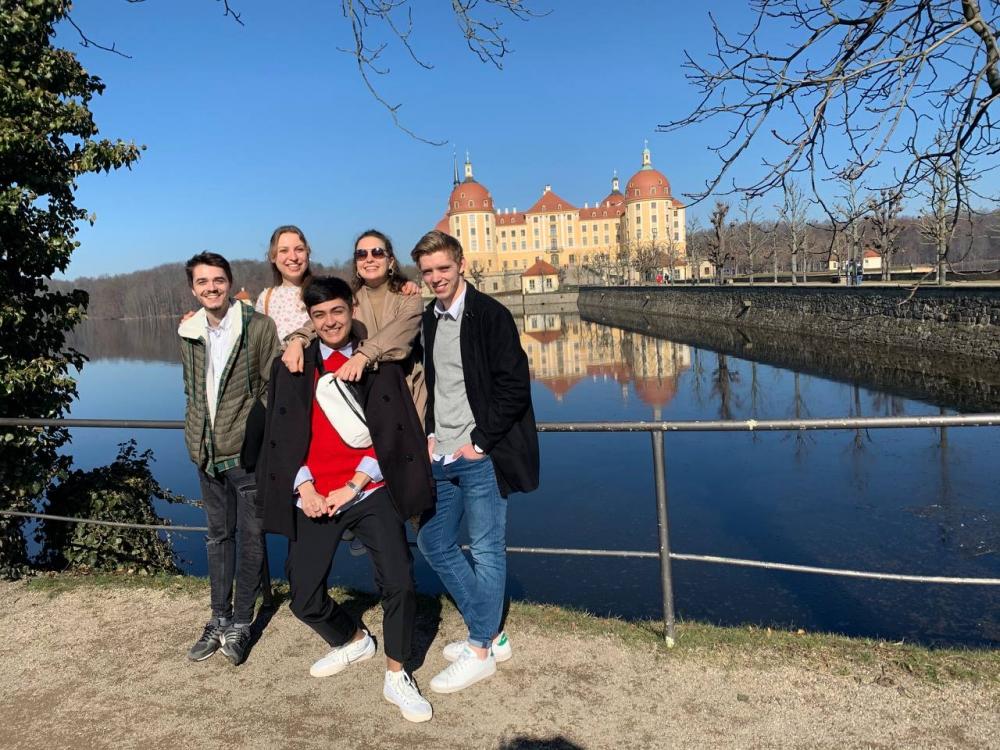 Sometimes people say that the student years are the best time of our lives. And if you have the opportunity to go to study in another country, then bright memories are guaranteed for a lifetime.
At school I dreamed of doing two things: improving myself in what I loved and moving to a new country, so I could see and visit more and more new places. I chose to study in the Latvian capital Riga and started traveling to Europe since my freshman year.
One day during a casual conversation my lecturer told me about Erasmus, a university in Germany, specifically in Dresden, and suggested me to go on an exchange to improve my communication, language, and cultural growth skills. After contacting the international department of my university, I applied for an exchange program for the 3rd semester and was selected. I had to choose my subjects for the Learning Agreement and looked forward to the start of the new semester. It is important to pay attention before you apply to the language of the study course and whether your level will allow you to study there. The university accepted certificates or Language Assessment Sheets to confirm my level of language in English. While waiting for the new semester schedule, I was preparing to apply for the national visa which was allowing me to stay in Germany for 6 months, which is free for scholarship students. Also, one of the most positive advantages of studying in Erasmus is that the student receives a decent scholarship, which in most cases helps to pay for accommodation and subsistence. My scholarship was approximately 750 euros per month, which allowed me to fully pay for my hostel accommodation, as well as sometimes (if I try) my own personal food expenses.
Advantages of Erasmus:
People
The great thing about studying in Erasmus exchange program is that you meet new people from all over the world who are excited about the adventure of the "here and now". I very quickly found people who were close to me, studying and coming as exchange students. On Erasmus, making friends is very different from doing so at home. On Erasmus, everyone talks to everyone and is so accepting. The only advice I have is to always say yes. Say yes if someone invites you to a get-together, be it for coffee, a beer, or a party. There are so many incredible people at Erasmus who have fantastic experiences to share.
Erasmus means Cultural Enrichment
Another benefit of going on Erasmus is cultural enlightenment. By experiencing another culture, you will broaden your horizons and become much more accepting. Every culture can teach you something new. Don't forget to spend some time discovering the city's cultural attractions.
Independence
After living abroad on your own, you are capable of anything. It's difficult to go to a new country for a few months on your own, handle all the paperwork, become acclimated to the area, and meet new people. But once you've finished, I promise you'll be pleased with yourself. Your spending will be another responsibility you will have on your own. Most Erasmus participants receive financial aid before leaving on their program. You must be prudent with the money. Always having enough money implies you can always go on a trip or have a night out! To get the most out of what you have, you will learn how to prioritize your needs and create a budget.
Learning new language
A new language might be learned at the ideal time when studying abroad. You will be able to study whatever language you desire while interacting with people from all around Europe. There is no better location to learn a language than in its native land, which was German for me. Every day you will have the chance to put your new abilities to use. The greatest method to learn is to try to use the language when making purchases and placing orders.
Travelling
Traveling was the main reason I wanted to participate in Erasmus. I experience a unique and difficult to describe happiness when traveling. Traveling entails learning about a new culture and getting lost in foreign locales. During your year or semester abroad, you will take several unexpected journeys, which will give you a wealth of memories to share.
Although the semester of study goes by very quickly, the memory of Erasmus remains forever, as do many of the people you met during the exchange. Erasmus is an opportunity that every student should take advantage of at least once in their life. This is the ideal time to really say, "Explore more," as that is how I like to end my segments. The entire world is expecting you. Some of your fondest recollections will be influenced by the individuals you encounter. You'll have a ton of tales to tell. Imagine having a friend in every nation in Europe and beyond! Doing an Erasmus provides you just this. Additionally, you get paid for it!
Erasmus is a little fabulous life, after returning from which you still have friends, new habits, and a full baggage of experience!
Information about the author Islombek Bekmirzaev – senior student of Turiba University in Riga, Latvia. Studying in the faculty of International Tourism, majoring in Hospitality Management. The year of admission is September 2019 and the expected year of completion of the undergraduate degree is June 2023. The winner of Erasmus Exchange program in SRH School of Applied Sciences in Dresden, Germany. The years of Erasmus participation 2020-2021.
Contact information: E-mail: islombekbekmirzaev388@gmail.com