27.02.2020
Doctoral student Davit Kortava: My country needs people with European knowledge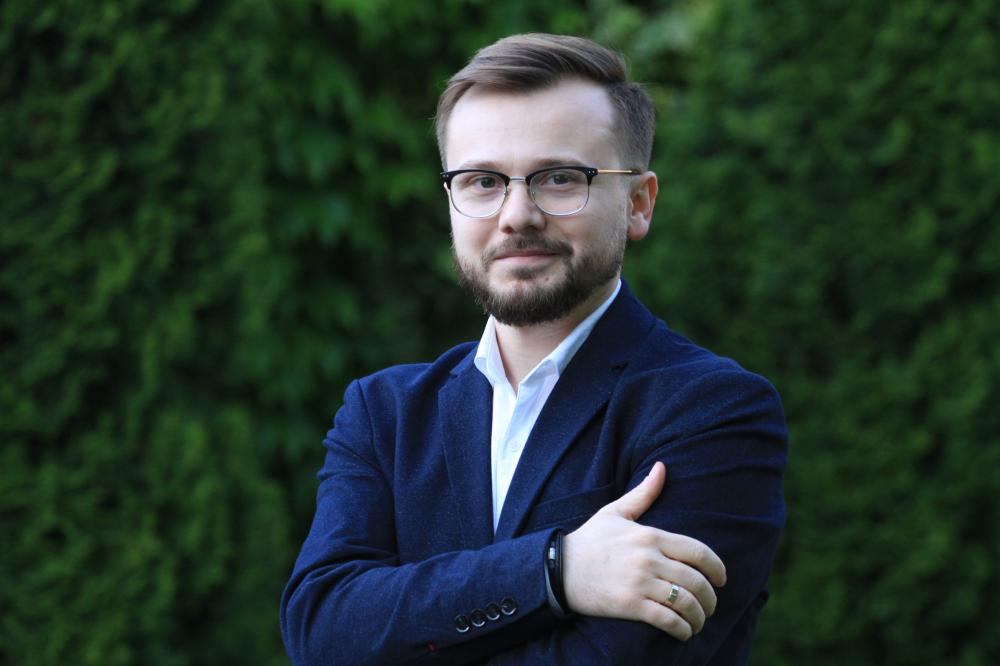 Latvia is a loyal friend and ally to Georgia, but after graduating, despite job offers, I chose to return to my homeland. I would like to dedicate my qualitative knowledge gained in Latvia to my country, says Davit Kortava, a doctoral student from Georgia who is currently has successfully completed his studies and is very close to obtaining a scientific degree.
Europe has many opportunities
I got a bachelor's degree in law in Georgia and realized that further studies require broader, European-recognized knowledge and international experience. When choosing where to study, I was not guided by the country but by the study offer. Europe has a lot of opportunities, but I'm looking for the right environment. I had never visited Riga or Latvia before starting my studies. The only thing I knew is that it is going to be cold all year, I was told by my parents and grandparents who had been here during the Soviet era. I was also told that people in Latvia are not very open, however, this perception changed already during the first days of studies.
Latvians keep up with Georgians in hospitality
Georgians are renowned for their hospitality and friendliness around the world, and I can say without hesitation that Latvians are not far behind us either. Latvians are very hospitable, open and friendly, you just need to get to know them a little more to understand it. I am often asked where the key to Georgian hospitality lies? I can say that it is made up of several components - historically our nation has gone through various attacks and takeovers, so we can appreciate friends and allies. Hospitality is also based on religion, as almost 90% of the country's population is Orthodox. Undoubtedly, the weather also plays an important role - Georgia is very warm and sunny, so people are more kind-hearted and kind.
Study experience in four countries
While studying for a Master's degree at the Turība University, I spent two years in Latvia. After that I continued my doctoral studies and at present there is very little left until I get my scientific degree. In framework of an exchange program I had the opportunity to study in the Netherlands, Poland and Lithuania, it was supported by lecturers and a scholarship from the university. In a short time, I had the opportunity to gain extensive international experience - along with my initial studies in Georgia, I currently have four different countries on my account.
Dedicate knowledge to homeland
After receiving my Master's degree, I also received job offers, which meant being able to stay in Latvia. These offers were very tempting coming from public and private sector, but it was important for me to dedicate my knowledge to my country. That's why I was studying. I want to give my land what it needs. At the moment, given the situation in Georgia, we desperately need young professionals with European experience and knowledge.
Opening of a branch in the Baltics in the future
Returning home, I started working in the Ministry of Economy of Georgia in the field of transport. I also founded several non-governmental organizations - in the field of education and work safety. In parallel, I worked as a lecturer at several universities. I would like to share my knowledge in the areas of Labor Law, EU Law and Transport Law. The experience and knowledge gained are being used to manage own law firm – "Kortava Khatashvili Legal Intelligence", which is already well-known in Georgia, so we are able to attract several investors. Within two years me as a Managing Partner of the company would like to open a branch also in the Baltic States. By obtaining a doctoral degree in Europe, my attorney's license will be valid throughout the European Union, which will also benefit the company. At the moment, we have not yet decided which of the three Baltic States to choose for opening a branch - although I definitely prefer Latvia and Riga, it is a decision to be made jointly with the other co-founder.
Latvia is a reliable friend
Following the events of 2008, our relations with Latvia and the Baltic States have greatly improved. Our countries have one common enemy that seeks to undermine our independence and sovereignty through their policy. In 2008, we saw it quite clearly, just as clearly as we felt the support and unity of Latvia. Latvia has taken the EU and NATO path, and your experience is extremely important and valuable to us. Latvia is a reliable friend.
I remember the time spent in Latvia with positive emotions only - I was able to enjoy the beautiful nature of Latvia as well as the cuisine, music and culture. Latvia impressed with its clean nature and ecology in everything, especially food, and to my great surprise and joy, warm and sunny days were not missed!