07.10.2020
Turiba XXII International Scientific Conference will be dedicated to artificial intelligence and green thinking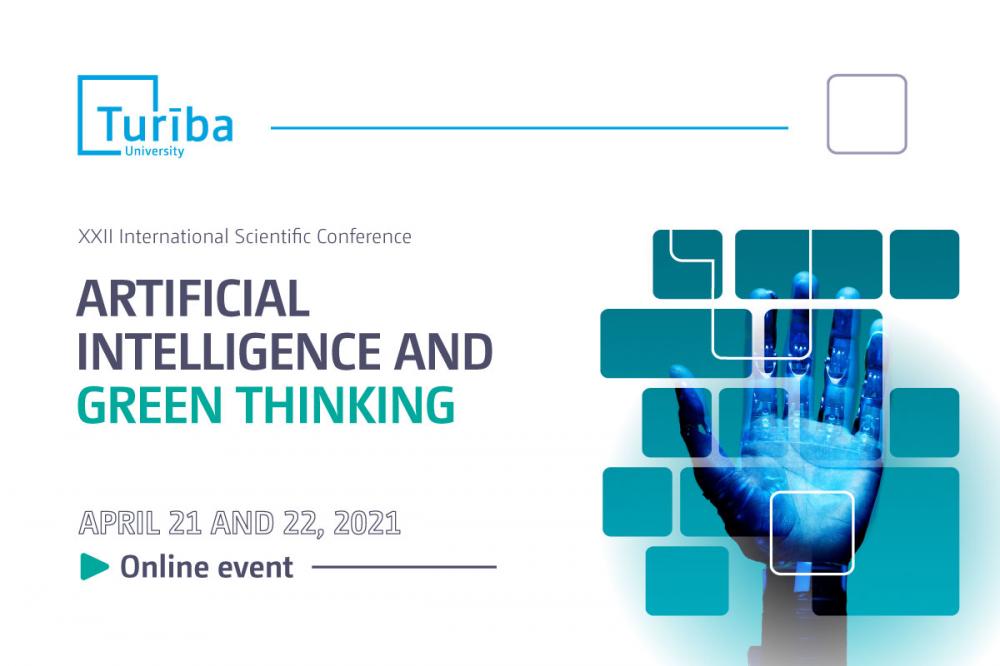 On April 21 and 22, 2021, the XXII International Scientific Conference "Artificial Intelligence and Green Thinking". Adapting to the national and global situation, the conference is scheduled to take place both in person and online on the Cisco Webex platform.
From virtual assistant SIRI to unmanned cars, artificial intelligence (AI) solutions are entering our daily lives faster and faster. Although science fiction often illustrates AI as human-powered robots, AI can incorporate anything, including innovative solutions that help protect the environment. 2020 has seen incredible success for AI, but significant improvements are still needed in infrastructure and energy efficiency, such as extensive and in-depth research to achieve the UN Sustainable Development Goals, including building sustainable infrastructure, promoting inclusive and sustainable industrialization and fostering innovation.
AI can lead to conflicting impressions: while some list professions that will disappear as AI develops and outline apocalyptic scenarios, others point to the benefits of a more sustainable future. Examples are already visible in our daily lives - thermostats that regulate the heating supply, avoiding unnecessary energy consumption and costs, virtual assistants who answer questions from corporate and institutional customers around the clock, etc.
In 2020, the global AI software market grew by 54% compared to 2019, reaching $ 22.6 billion. Despite the changes that AI will bring in terms of employment, AI is projected to boost global economic growth: in the technology, media and telecommunications sectors, AI will contribute to increase the global GDP by 12.5% in 2030 (5.5% of profits related to productivity and 7% of the increase due to product improvements).
Within the framework of the conference, there will be a panel discussion "Latvia as green technology superpower - areas, opportunities, challenges" with the participation of various Latvian experts, presentations by foreign experts in the field of artificial intelligence, as well as practical workshops.
On the second day of the conference, there will be a section on student work, as well as parallel sections in five areas: business and tourism, communication, law, education and information technology.
The conference proceedings will be published electronically, published on the university's website and in the EBSCO and ProQuest database. All reports will be reviewed by experts from the scientific council of the conference.
ACTA PROSPERITATIS NO. 12
"Acta Prosperitatis" is an international scientific journal published by University Turiba. The journal provides international publicity for research on current issues and innovative solutions in the fields. It covers a variety of topics related to management science, legal science, communication science, tourism and education.